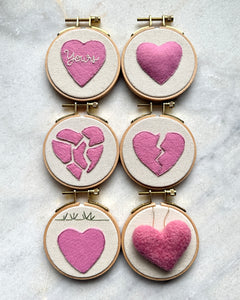 Perfect little gift for a Valentine or anyone you want to let know that they have you heart. These are hand embroidered felt hearts that have been delicately hand stitched and finished in 3" wooden hoops. Each heart has been inspired by the song Hands Down by Dashboard Confessional. This item includes all 6 embroidery hoops and can be hung however your heart desires.
This item is one of a kind and is ready to ship and will be sent within 2 days.
I have tried to accurately photograph this item but due to variances between screens colors may appear different than the actual item.

This item is made by hand, not a robot! Each hoop is slightly different given the nature of hand dyed and hand stitched items. Enjoy the differences and know that yours is one of a kind!