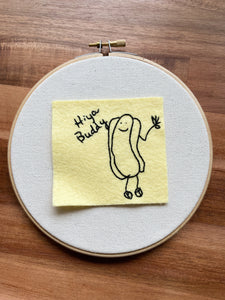 This embroidery has been inspired by the post-it used in The Office. Hiya Buddy and a sketch of a hotdog waving embroidered in black on a pale yellow piece of felt, which is finished in a 5" hoop. The post-it measures about 3.5" x 3" And has been delicately stitched to the lightly speckled background cloth where it would be sticky if it were a real post-it.
This item is ready to ship and will be sent in 1-2 days!
I have tried to accurately photograph this item but due to variances between screens colors may appear different than the actual item.